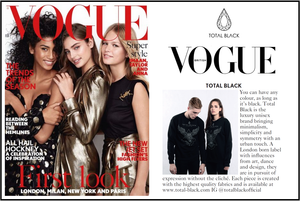 We're in British Vogue!
We are proud to announce that we have been featured in this month's issue (February 2017) of British Vogue. You can find us on the Designer Profile Page, which showcases upcoming designers Vogue to their readers. 
'You can have any colour, as long as it's black.' TOTAL BLACK is the luxury unisex brand bringing minimalism, simplicity and symmetry with an urban touch. A London born label with influences from art, dance and design, they are in pursuit of expression without the cliché. Each piece is created with the highest quality fabrics and is available at www.total-black.com, IG @totalblackofficial.
---