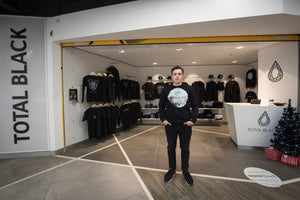 TOTAL BLACK Launches in Birmingham's Bullring
LONDON, UK, November 30th, 2017 – There's a new shop popping up in Birmingham. For the duration of the holiday season, TOTAL BLACK, the world-renowned, London-based unisex premium urban brand, will make its wears available to the Birmingham crowd, through its store on Link Street in Birmingham Bullring, from November 6th, 2017, up to January 1st, 2018. To celebrate its arrival to Birmingham, TOTAL BLACK will be running special in-store promotions offering discounts to its customers for the duration of its stay.
TOTAL BLACK, which has been featured in GQ, Vogue, Glamour Magazines and Fashion Network among other publications, counts as one of its vital foundations that "in its roots", its designs "were made as one-off pieces for the artists to wear themselves." This principle is reflected in the company's creative output, which includes Dima, the Creative Director's vision of "a wide-ranging collection of clothing and accessories with a core focus of creating designs based on minimalism, symmetry and, of course, the colour black. We are positioning ourselves as in the gap between high-street brands and more premium ones, allowing our customers to have the high quality and design of premium garments, at prices significantly lower than those of luxury brands."
Boasting an eclectic array including T-shirts and Sweatshirts for men and women, which feature various, original designs, TOTAL BLACK further offers select accessories, such as beanies and caps.
Speaking of TOTAL BLACK's Birmingham Bullring store, Igor Ivanenko, one of the Co-Founders and Director of the brand, stated that "We are pleased to introduce our designs to Birmingham. Though inherently transit, pop-up stores are incredibly dynamic, as they provide the opportunity to come into contact with customers, who, in turn, get the chance to fully immerse themselves in the brand's concept, and become acquainted with its philosophy as well as feel the premium quality of the products that we constantly get praise for. Following on from our previous pop-up store in London, we think Birmingham is an ideal location for the Brands second store in the UK."
Alik Shy, one of the other Co-Founders said "Through our special in-store promotional efforts, we aim to help customers learn about the brand and ease their first purchase their favourite pieces and join the TOTAL BLACK WORLD, at a discount. What's more, this effort comes right before the busy holiday season, making Christmas shopping, easier, and more cost-effective."
The brand's pop up at Link Street follows a prior similar, and successful venture at London's BOXPARK, in Shoreditch. TOTAL BLACK is also happy to announce that is now stocked in four new stores in London and recently had a hugely successful launch on the Middle East's major online retail platform ELABLELZ.COM. It is now working hard to bring the brand to multiple other retailers both online and in-store internationally over the next coming months.
Any future TOTAL BLACK pop ups and events will be announced in future communications with the press.
Source: http://www.digitaljournal.com/pr/3580584
---