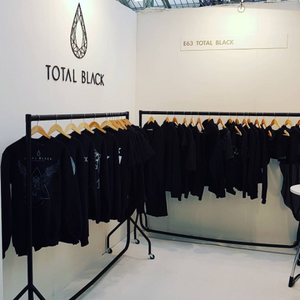 TOTAL BLACK at Pure London AW17 Fashion Show - Kensington Olympia
This three day trade-only event was based in Londons famous Kensington Olympia, allowing brands to showcase their new collections to buyers and industry professionals from all over the world, as well as to offer a preview of whats to come before the official launch of the new collections to the Press and Media. There were also catwalk shows and inspirational talks from industry professionals including editor-in-chief of British Vogue, Alexanda Shulman OBE, Bianca Miller, Sasha Wilkins and WSGN's Retail and Buying Director, Sara Maggioni.
We were really happy about how the event went and we made some great connections, allowing us to grow in the industry and achieve and exceed our goals faster as well as providing yourselves with larger new collections. We are also excited to announce that TOTAL BLACK will be stocked in physical stores in multiple countries soon and we are hoping to announce some other amazing news soon.
Pure London AW17 was our first trade show of many to come and as a result the TOTAL BLACK WORLD is growing!
Once again as always we want to thank you all for your support in our brand and we will keep you updated on any future developments.
TOTAL BLACK TEAM
---