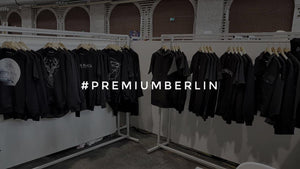 BERLIN FASHION WEEK X PREMIUM X TOTAL BLACK
Hi Everyone,
Sorry we've been quiet for a while, it's been a busy few weeks for us with preparations for two trade shows, of which one was our first international one. We were very honoured to have been invited to exhibit at PREMIUM Berlin for Berlin Fashion Week this season. It was a great show and a great start to the summer season with sunny skies and great vibes in arguably Europe's capital for urban-wear. We met some really interesting people over in Berlin and discussed some cool projects that we will hope to announce soon.
Next we're really excited to return to Pure in our hometown and exhibit at London and the UK's leading fashion trade show again next week with our SS18 collection and new pieces. It is a trade-only event, however if you are in the fashion or press industry and haven't got tickets yet, email us and we will be happy to help organise these for you.
Hope you all have a great week and we will be back soon with updates from Pure.
TOTAL BLACK TEAM
---